Now six months from the Great Pacific Race, 
Liz has hung up her rowing shingle and Pat Hines is pursuing solo races.  
We will keep you posted very soon….stay tuned.
---
Musings:
After spending over a year training hard and focusing on the race, I found myself down and disconnected once the race was over. The training and preparation that was such a big part of my life was now gone. After the race I remember feeling I could conquer the world, but a few days after I felt a great sense of sadness. After the incredible happiness of finishing the fatigue set in and the endorphins were slipping away. The GPR rewarded me in countless ways that I use each day, but it was a painful reward too with the challenges of the physical, emotional and financial recovery along with the feeling of "what now?" I felt like I lost some of my motivation. I also felt I didn't have the luxury to lose my motivation. I needed to get my business back on track and re-group my family with twins going off to college next best, but then I realized that lack of motivation was post race depression and it was a normal healthy sign. It was my body's way of saying, "Reconnect to the other areas of your life, rest up and think about your next adventure and brag little… after all we did row across the Pacific Ocean. And that's why I'm moving on to the next challenge: A short row from the Port of Los Angeles around Catalina and back. I have swum it, paddle board it and paddled it so rowing it is next.
---

Members from Uniting Nations, Team Ocean Hearts and Moana Uli Rowing all together here in Waikiki.  We celebrated the incredible achievement of these rowers today in a ceremony where they were each presented with hand written "spoons" to commemorate their rows across the Pacific.



Watch live TV news coverage.
After 46 days at sea, two women rowed into the record books today. Six teams are competing this year, rowing from Monterey, California to Waikiki. KITV's Maleko McDonnell takes us to the finish lin…
 July 21st, 10:00 am:
FEMALE ROWING TEAM SETTING TWO NEW GUINNESS WORLD RECORDS AT THEIR FINISH OF THE GREAT PACIFIC RACE 2016
After 46 days at sea, two women from Los Angeles, California racing as Team Ocean Hearts have come in 2nd of all Boats, 1st in All Pairs, 1st in Open Pairs, now breaking the world record for the oldest female ocean rower, and the oldest pairs team to row an ocean.
July 21, 2016, Honolulu, Hawaii – The first "pairs" team to finish the Great Pacific Race have completed their epic journey and rowing into the record books. Powered by nothing more than muscle, the team of two women have pushed themselves to their mental and physical limits completing their mammoth 2,400 mile journey from California to Hawaii by rowing boat.
The crew have not been off the boat for the duration of the crossing except to clean barnacles and retrieve an anchor sling, and have carried with them everything required for the journey including everything required for the journey including hundreds of pounds of freeze dried food and a desalination device which makes drinking water out of sea water. They have slept in a watertight cabin at one end of the boat, taking it in turns to row around the clock and keep the boat moving towards Hawaii.
The team has faced flying fish, nudging whales, rain storms with winds up to 35 mph and waves larger than 20 feet during their crossing from Monterey, California to Waikiki, Hawaii. Teams departed from Monterey on June 4th at 6pm PST.
Guinness World Records
The team will break two Guinness World Records when they arrive.
1 – The oldest pairs team to ever row an ocean. (combined age of 120 years, 8 months and 14 days)
2 – Pat Hines (61 at the start of the row / now 62) will become the oldest female ocean rower.
"Team Ocean Hearts are an inspiration. They have displayed courage, ingenuity and physical toughness which have exceeded expectations," said Chris Martin, Race Director for the Great Pacific Race. "We cannot wait to welcome them home as the first placed pair and witness them row into the record books. Not only for winning the race toughness which have exceeded expectations." said Chris Martin, Race Director for the Great Pacific Race. "We cannot wait to welcome them home as the first placed pair and witness them row into the record books. Not only for winning the race but also for their Guinness World Records."
July 19, 8:00 am PST:
Only 100 miles left to get to the finish line, and the countdown begins for Team OceanHearts.
Before the race, some snickered a bit when Team OceanHeart's race banner revealed Pat was the oldest rower. That was way back in June. But everyone still seemed surprised when they took over the 2nd position, even more surprised when they stayed in 2nd position despite being nudged by a whale, slapped around by unrelenting storms, 15-30 foot waves, flying fish, a hole in the bow, lots of salt, rain and sun. Well, never underestimating the drive of Pat Hines and Liz Dycus, the California wonder women, they are about to reach the finish line 2nd of All Boats, 1st in All Pairs, 1st in All Open Pairs.
And to think,  yesterday with only 125 miles left, all hell broke loose.
Says Pat, "It was a tough day yesterday – had to go on sea anchor and lost the sea anchor retrieval line so we can disengage it. You need the anchor and we feared we would have to cut it to be free of it, but the anchor is very important. If the retrieval line came loose,  we worried all night and in the morning.
I had to go into the water in rough seas, find the anchor line and tie another line around it so we could pull the anchor up. The anchor line went slack and I grabbed to tie a line and it wrapped around my foot and went tight pulling me under. I couldn't get loose until the anchor line went slack. I was really scared I would drown. We got the line and thought we did not have a prayer in pulling it up but we did and when we saw that anchor coming up I cried and Liz laughed with relief. We got underway to awful seas – no wind and cloudy."
And look where they are now. Talk about WOW.
WOW
Feeling so proud for Uniting Nations.  Can't wait to congratulate you in person.
"The first team to cross the finish line of the Great Pacific Race is Team Uniting Nations.  Their provisional race time of 39 days 9 hours and 56 minutes is a new race record and they have also taken a new Guinness World Record for the fastest boat to row the Pacific." greatpacificrace.com/news/

Report from Pat, day of Uniting Nations Win:
" We're right behind you! We have our speed  back and we are rowing 24/7. I went in the water and scraped off barnacles. Liz watched for sharks and as I got a great view of the bottom of the boat and the ocean around me. Tethered to the boat at all times because it would not be a good thing to be swimming after it. There were tons of barnacles and with them gone we will see a slight increase in speed. From the water the boat looks so small…"
July 13, A Tough Few Days
As the Race blog states:
For those of you who have been watching the YellowBrick Race tracker, you may have noticed something odd happening with our powerhouse ladies team of Liz and Pat on Team Ocean Hearts. These ladies, who have been a force to reckon with for their entire crossing, have met a force they are struggling with – Eddy.
Eddies are defined as "a circular movement of water, counter to a main current." If you click on the world symbol on the tracker page to get the topographical map, you will see several latitudinal ridges underneath where Team Ocean Hearts are currently rowing. This undulation in the seafloor is called the Molokai Fracture zone and may be responsible for the adverse pull of the ocean in their location. The ladies are strong and will, literally, pull through this. We know that their course has been a bit unorthodox at the moment. We hope to see them break free of the current and back on track to Hawaii soon.
We heard from Liz and Pat and here is what they told us: "Needless to say we are frustrated with pace but in the states we have a saying. THERE'S NO CRYING IN BASEBALL. 10 kt wind and confused seas. We row on."
Power on Liz and Pat! We are all cheering for you!"
TODAY PAT CELEBRATES HER 62nd BIRTHDAY AT SEA
As reported by Liz at 24 57'02.91 N, 136 24'09.55 W:
Pat said this is the best birthday she's had other than the first one celebrated when her kids were born. She said forget your age and live your life.
Stormy winds, rain, huge waves rocking the boat, dead flying fish on board, you name it! Over the last few weeks, Pat and Liz moved into  2nd Place of ALL Boats, 1st in ALL Pairs, 1st in OPEN Pairs. At one point the swells virtually doubled in size and Liz almost lost a breast when she fixed a leak in the bow with a special plug!
The boat was completely swamped by a wave.
Now that the weather has subsided their favorite game is about food; what we'll eat when we get to Hawaii. They ate all the 25 PB sandwiches made with some of our Justin's butters in Monterey and they're on to freeze dried food now, which is not nearly as good.
Team Ocean Hearts appears to be holding their ground in second place.  They have maintained the distance between first and second place and are currently 203 NM behind the powerful first place team of Uniting Nations.  Pat and Liz are pulling away a bit from Moana Uli Rowing, increasing the distance there from 83 NM to 91 NM.
NEWS JUNE 13th:  It's been a few rough stormy days and nights. First they were brushed by a whale, and then the pouring rain and high winds, storming, bailing water out of their boat all night long.  Then early yesterday, the rocky waters bumped an oar overboard.  Caught in a vicious cycle, they would row, then the waves would spin them around.  The good news is that they maintain their position in 1st Place in All Pairs, 1st Place in Open Pairs, and 3rd Place of all Boats…very close now behind 2nd place.
See full story:
http://greatpacificrace.com/2016/06/12/rock-n-roll/
See story from KSBW from Launch Day!   Great Pacific Race begins in Monterey http://www.ksbw.com/news/great-pacific-race-begins-in-monterey/39905288#.V1Y3t-s7of0.twitter …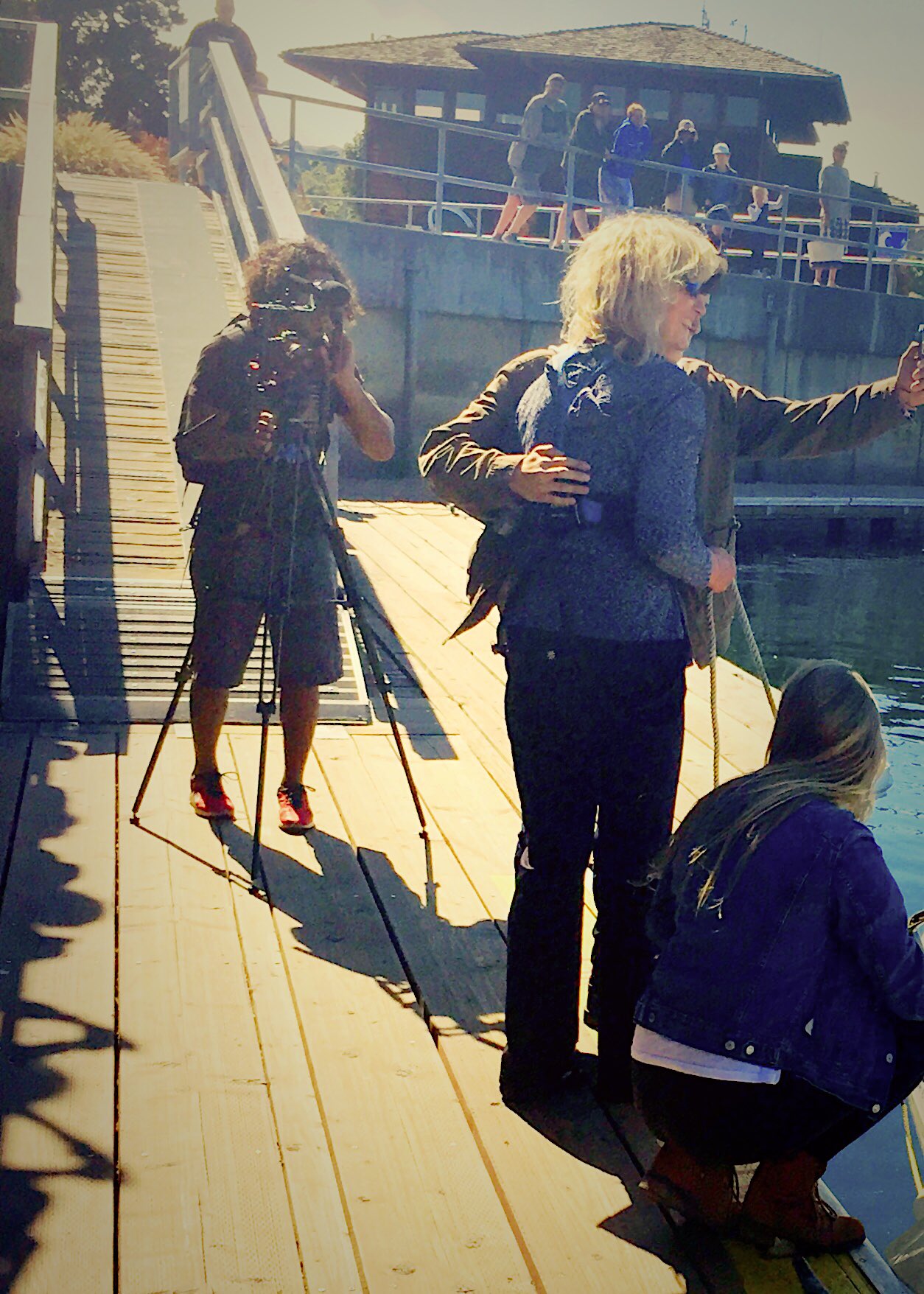 You can follow them by going to the tracker at http://greatpacificrace.com/ and you will see their boat and their progress in real time. Just go to the pull out menu on the left that lists the teams. Click on Team Ocean Hearts and there they are!!! 
Imagine, they had to fit all of this gear into that boat. But they succeeded.

Today, on June 4, 2016, Pat Hines and Liz Dycus will start their historic row across the Pacific, the world's largest body of water, as part of the Great Pacifc Ocean Race of 2016.   http://greatpacificrace.com
No sails, no motor, just muscle power and a fierce determination to challenge the waves and themselves. And their goals are mighty – set a world record for becoming the first two-woman rowing team to cross the Pacific, and turn up the volume on the conversation about Women's Heart Health.
For Pat and Liz, who are both over fifty, it will be a test of their fitness and will, providing inspiration for women everywhere to get moving, be healthy and push their own limits.
They are not leaving without assembling an amazing land team of a navigator specialist, Paul Cunningham, and a medical team comprised of Dr. John Molina, and Dr. Donald W. Plance.
Thank you sponsors: 
Unable to display Facebook posts.
Show error
Error: Error validating application. Application has been deleted.
Type: OAuthException
Code: 190
Please refer to our
Error Message Reference
.
PRESS RELEASE: October 20, 2015
LOOK WHO'S BEHIND US!
Team OceanHearts & Go Red for Women Collaborate in Epic Race
American Heart Foundation's Go Red For Women Collaborates With Team OceanHearts  As They Row In The Biggest, Baddest Human Endurance Challenge On The Planet
"Rowing across the Pacific as a two-woman team is a unique opportunity for us to turn up the volume on this important life saving conversation," says Pat Hines, Captain of the Team.
"We are honored to support Team OceanHearts and especially excited that they are bringing the message of heart health on their epic journey," said Laura Baker, Business Development Director for the American Heart Association's Go Red For Women campaign in Los Angeles. "We are grateful to Pat and Liz for their commitment to empower women to take positive steps for their health."
For Team OceanHearts, the goal is to set a world record as the first two-woman rowing team to cross the Pacific and to bring attention to Women's Heart Health, an issue that is close to Pat Hines's heart, who lost her mother to heart disease at the early age of 60.
Go Red For Women is a passionate social initiative designed to empower women to take charge of their heart and brain health by providing them with tools and resources to live longer, stronger, healthier lives.
WE'RE RACING FOR A WORLD RECORD!