TODAY PAT CELEBRATES HER 62nd BIRTHDAY AT SEA
As reported by Liz at 24 57'02.91 N, 136 24'09.55 W:
Pat said this is the best birthday she's had other than the first one celebrated when her kids were born. She said forget your age and live your life.
Stormy winds, rain, huge waves rocking the boat, dead flying fish on board, you name it! Over the last few weeks, Pat and Liz moved into  2nd Place of ALL Boats, 1st in ALL Pairs, 1st in OPEN Pairs. At one point the swells virtually doubled in size and Liz almost lost a breast when she fixed a leak in the bow with a special plug!
The boat was completely swamped by a wave.
Now that the weather has subsided their favorite game is about food; what we'll eat when we get to Hawaii. They ate all the 25 PB sandwiches made with some of our Justin's butters in Monterey and they're on to freeze dried food now, which is not nearly as good.
Team Ocean Hearts appears to be holding their ground in second place.  They have maintained the distance between first and second place and are currently 203 NM behind the powerful first place team of Uniting Nations.  Pat and Liz are pulling away a bit from Moana Uli Rowing, increasing the distance there from 83 NM to 91 NM.
NEWS JUNE 13th:  It's been a few rough stormy days and nights. First they were brushed by a whale, and then the pouring rain and high winds, storming, bailing water out of their boat all night long.  Then early yesterday, the rocky waters bumped an oar overboard.  Caught in a vicious cycle, they would row, then the waves would spin them around.  The good news is that they maintain their position in 1st Place in All Pairs, 1st Place in Open Pairs, and 3rd Place of all Boats…very close now behind 2nd place.
See full story:
http://greatpacificrace.com/2016/06/12/rock-n-roll/
See story from KSBW from Launch Day!   Great Pacific Race begins in Monterey http://www.ksbw.com/news/great-pacific-race-begins-in-monterey/39905288#.V1Y3t-s7of0.twitter …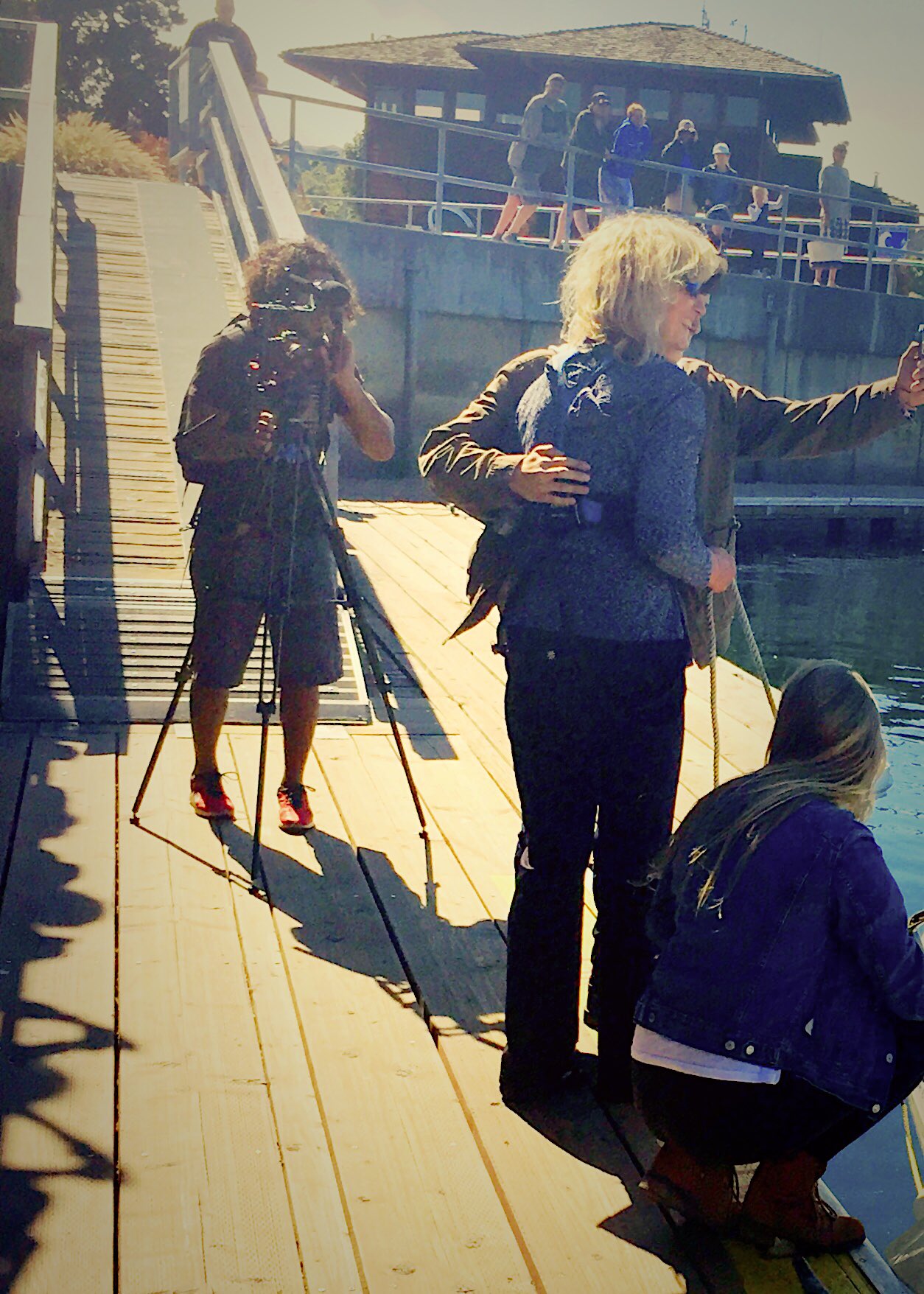 You can follow them by going to the tracker at http://greatpacificrace.com/ and you will see their boat and their progress in real time. Just go to the pull out menu on the left that lists the teams. Click on Team Ocean Hearts and there they are!!! 
Imagine, they had to fit all of this gear into that boat. But they succeeded.

Today, on June 4, 2016, Pat Hines and Liz Dycus will start their historic row across the Pacific, the world's largest body of water, as part of the Great Pacifc Ocean Race of 2016.   http://greatpacificrace.com
No sails, no motor, just muscle power and a fierce determination to challenge the waves and themselves. And their goals are mighty – set a world record for becoming the first two-woman rowing team to cross the Pacific, and turn up the volume on the conversation about Women's Heart Health.
For Pat and Liz, who are both over fifty, it will be a test of their fitness and will, providing inspiration for women everywhere to get moving, be healthy and push their own limits.
They are not leaving without assembling an amazing land team of a navigator specialist, Paul Cunningham, and a medical team comprised of Dr. John Molina, and Dr. Donald W. Plance.
Thank you sponsors: 
PRESS RELEASE: October 20, 2015
LOOK WHO'S BEHIND US!
Team OceanHearts & Go Red for Women Collaborate in Epic Race
American Heart Foundation's Go Red For Women Collaborates With Team OceanHearts  As They Row In The Biggest, Baddest Human Endurance Challenge On The Planet
"Rowing across the Pacific as a two-woman team is a unique opportunity for us to turn up the volume on this important life saving conversation," says Pat Hines, Captain of the Team.
"We are honored to support Team OceanHearts and especially excited that they are bringing the message of heart health on their epic journey," said Laura Baker, Business Development Director for the American Heart Association's Go Red For Women campaign in Los Angeles. "We are grateful to Pat and Liz for their commitment to empower women to take positive steps for their health."
For Team OceanHearts, the goal is to set a world record as the first two-woman rowing team to cross the Pacific and to bring attention to Women's Heart Health, an issue that is close to Pat Hines's heart, who lost her mother to heart disease at the early age of 60.
Go Red For Women is a passionate social initiative designed to empower women to take charge of their heart and brain health by providing them with tools and resources to live longer, stronger, healthier lives.
WE'RE RACING FOR A WORLD RECORD!